It's been a while since we had a brunch party but Mimosaholic is BACK!
And this time Food Before Love is doing it Cinco de Mimosa style!
So on May 4th – you can join us for one of two seatings at Matilda's in the East Village where there will be unlimited mimosas for two hours and this hand picked delicious menu.
Love is always on the menu here so Eat up and Wear a sombrero for a free shot of Tequila!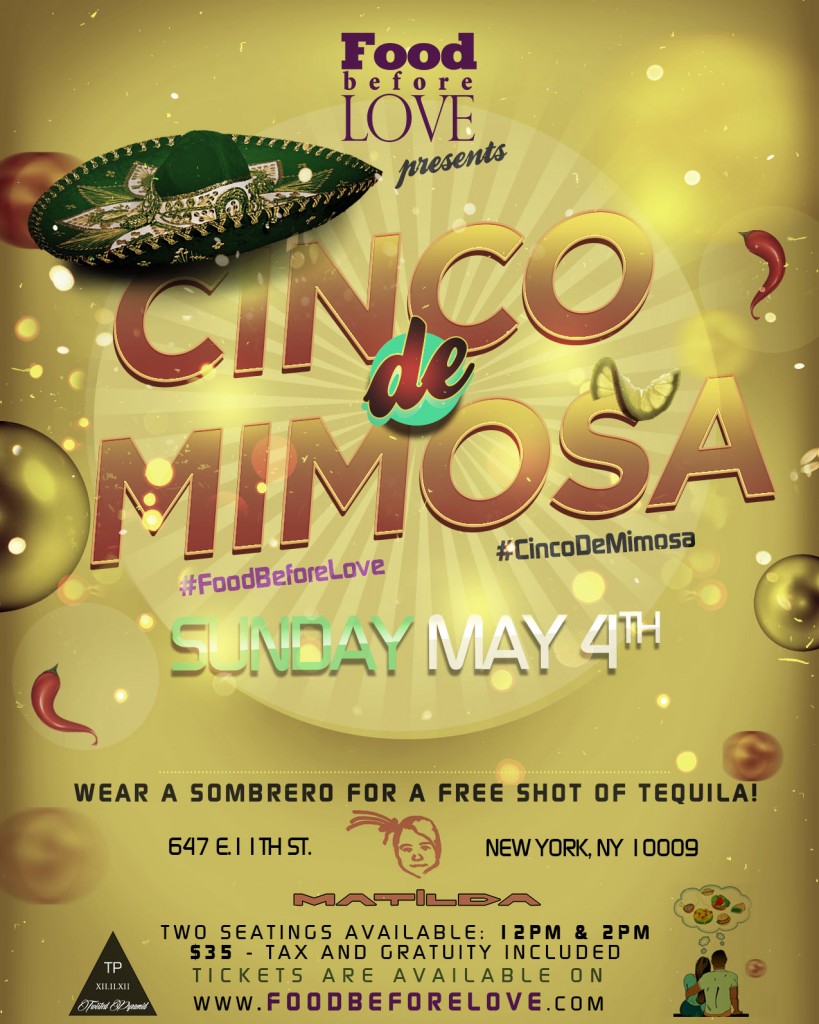 Menu
FRITTATA A LA MEXICANA
Omelette with tomato, onions and jalapenos served with mix greens
TACO DE POLLO
Soft corn tortillas with chicken breast and caramelized onions
CHILAQUILES ROJOS
Tortilla chips stewed in tomato chipotle sauce topped with Queso fresco, crema fresca and sunny side up egg
CARBONARA AL CHORIZO
Spaghetti with eggs and spicy chorizo
UOVA IN CAMICIA
Crispy tortilla topped with chorizo, poached eggs and chipotle-crema fresca sauce
PANETTONE FRENCH TOAST
With mascarpone cheese fresh strawberries and maple syrup
VEGETARIAN BURRITO
Mixed veggies, rice beans and mozzarella cheese


Well, Are you a Mimosaholic?
It always feels good to cross restaurants off of my "To Eat" list, especially with new friends, so I was super ecstatic to try out Yerba Buena despite the struggle it took getting there. The restaurant is on the corner of Perry street but the avenue is completely blocked off from the east side which is where I was traveling from. I couldn't complain for long because I found out the unlimited drinks are interchangeable here, that was all I needed to know to start loving this place.
So I indulged in the Brazilian Bellini which included passion fruit instead of orange juice, Sangria, Mimosas and some other drink I couldn't pronounce but didn't like too much anyway. We happened to be starving so we decided on trying the guacamole. Neither one of us was very impressed with the flavor but it would do as we waited for the entrees.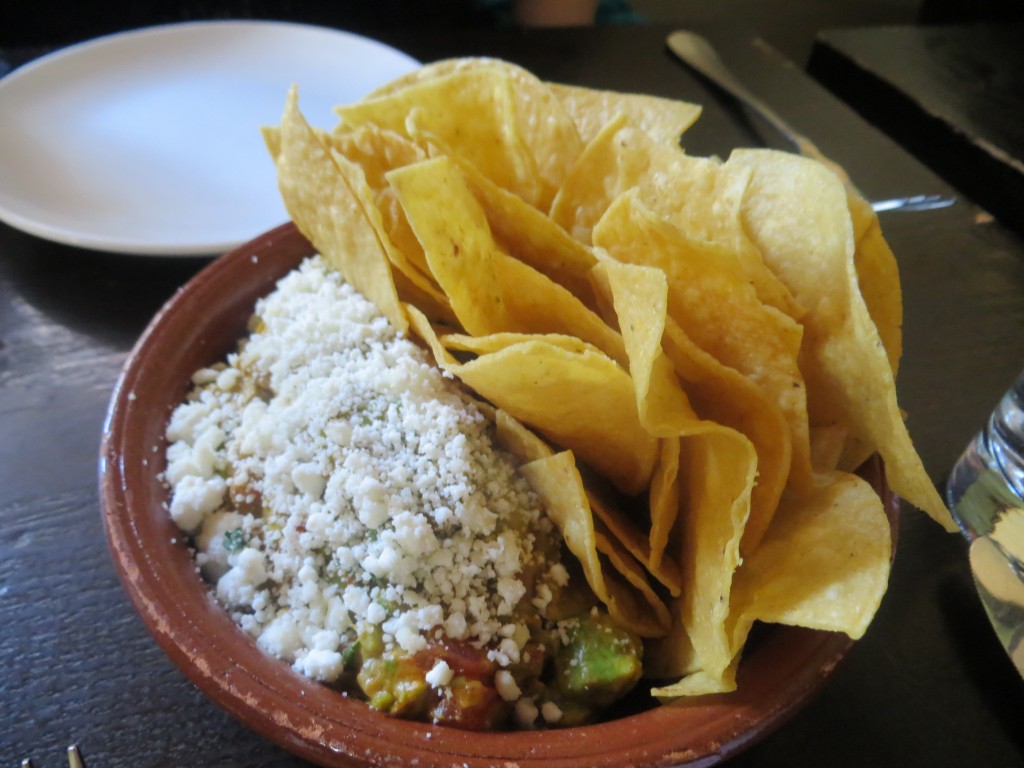 As I looked forward to savoring the steak "a caballo" which was a hanger steak with fried eggs, I checked out the scene. Not going to lie, the place was packed but despite that our waitress was really attentive and kind to us. She even left a few extra drinks at our table before our time was up. A large party had been set up down the middle and directly behind us which made me consider this as a reasonable location for a birthday brunch or dinner. A las, brunch had arrived.

The rice and beans had a subtle flavor of herbs which I got to spice up with the Salsa Criolla that you see on the side of the Congri. Apparently, Congri is a fancy way of saying "sweet banana" in it's entirety. The steak was medium rare, partially overdone and a part of it was just right. I ate what I could and continued drinking. The parts that I was able to enjoy were juicy and rich, however the egg to accompany it was basic, so I ate what I could to get filled up. I wish the steak would have been more consistent in order to devour it in it's entirety but some places you win with the drinks and lose on the food. It wasn't an entire loss but disappointing indeed.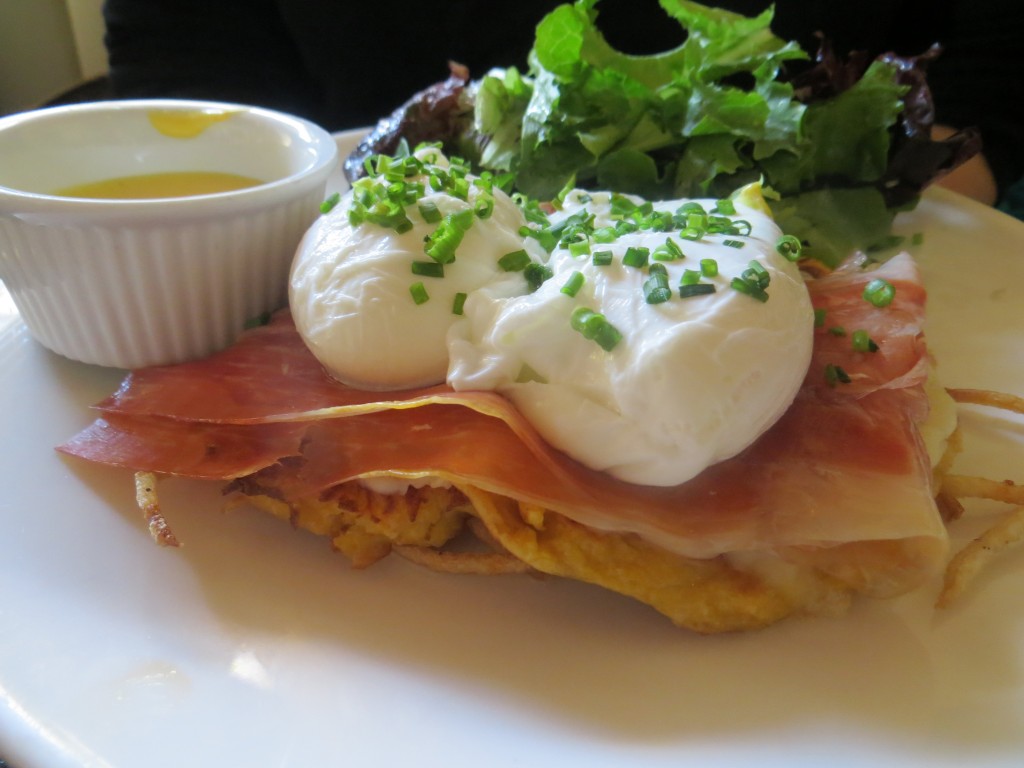 You have now entered the raw portion of veganism. What exactly does eating raw mean? Eating raw foods means that you stick to a holistic diet consisting of uncooked fruits, vegetables, nuts and grains. Many raw foodist may even dehydrate their fruits or vegetables whilst still maintaining all the nutrients without altering them via cooking. Raw foods are not meant to be cooked. If it is steamed it would have to be at a certain degree/temperature. One of my favorite Raw Foodist is Fully Raw Kristina. She makes it her goal to spread the word about holistic health and holistic eating by eating raw foods. She transforms various types of meals by using raw fruits, veggies and grains.
I won't lie, I doubt being a raw vegan would suffice for myself right now. I will say though eventually I will become one, just not right now. Ha! It is important to have at least one vegan day a week or do a week of juicing once a month. There are so many ways of incorporating holistic raw foods into our diets. It's up to the person and their will power to push forward. I must say with vegan food whether raw or non-raw you have the ability to experiment with lots of great flavors. The beauty about veganism is the ability to maintain a sustainable weight and not feeling overwhelmed by the food you are consuming. I came across this Instagram in which this woman creates raw desserts and my mind was completely blown. Doesn't this spelt chocolate banana with maple syrup stack of pancakes looks DEEEEEE-LICIOUS?????????
Also, myself and Casandra went with a few of our followers on a vegan brunch date at Caravan of Dreams in the Village. We had such a great time. I ordered the non raw quesadilla which was absolutely mind blowing. I knew I was still hungry so I ordered the raw pizza. This pizza was so delicious and the presentation made it even more stunning and delectable
These are things you can make at home and not feel guilty afterwards due to the fact that eating holistically doesn't make you feel lethargic and queasy, it makes you feel relaxed and light. Gather a spelt flatbread and all of your favorite veggies: avocado, tomatoes, mushrooms, arugula and make a pesto sauce with basil and your favorite seasonings…VOILA.