Who's up at 6am in NYC? Cafeteria always is!
Everyone's favorite thing about Cafeteria besides the mac n cheese has to be that you can show up at any hour and get some food! The party doesn't stop NYC, when you can always pop in at the Caf.
So when I was leaving this wine tasting downtown and was starving, I knew i could lean on my friends at Cafeteria to hold my stomach down. I was tired and over the night life scene but you couldn't tell from the way I perked up with this Mojito Sangria in front of me. MY GAWD. This sangria was heavenly, I was almost upset. Like how dare you mix some of the best drinks in town to make this perfection? The mint combined with the smoothness of the Sangria was just exhilarating so a pitcher had to follow this. Sue me.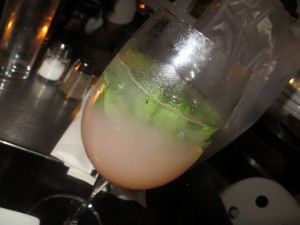 I wasn't even all that hungry but who am I to resist mac-n-cheese spring rolls? I looooovveee spring rolls & I love mac-n-cheese so I had high expectations for this 8th wonder of the world. Luckily, it didn't disappoint in the least! The outside of the roll was crisp and crunchy and more importantly, didn't overpower the flavors on the inside. Inside of the roll the mac was soft, great chew, cheesy and even better when you dip it in more cheese. I'm not sure how I just wrote that last sentence because my eyes were closed the whole time. This stuff is the bomb.com.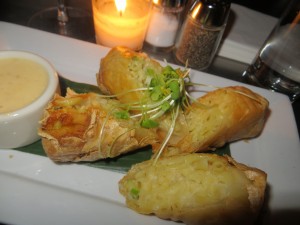 By then I really wasn't hungry. Or was I? Because I definitely wound up ordering their beer battered fish that was delish! The fish was just so soft and fried to this beautiful brown that you couldn't help but appreciate. They also make a killer meatloaf and see how I felt about brunch last time I was here.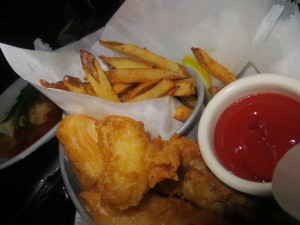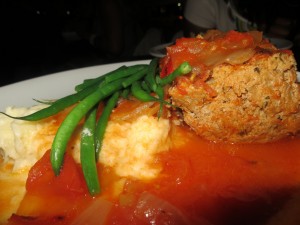 If you read this site often enough, you know I had to save room for dessert. Considering I never had fried oreos before, that day was definitely about to be the day I wanted to formally introduce my tastebuds to them. Are they overrated? Maybe by a little bit. Does that mean they weren't awesome? Absolutely not. They were extra good and I got to pair it with this yummy cappuccino ice cream and drink. Cafeteria is FoodBeforeLove Approved for this one man.